Deck
(⏱ 5 sec)

"A deck that can be built onto a ship frame."

Stats

Resilience

Crafted in:
Assembly Station

Deck
Info
[
]
A deck piece is a structural ship component which is automatically generated along flat sections of a ship being built. You can also craft deck pieces to replace lost ones or to change their material from an Assembly Station.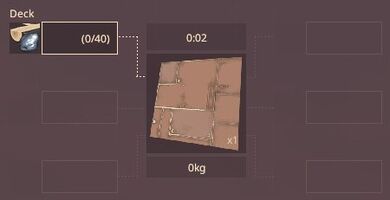 Placement Restrictions
[
]
Decks can only be placed in areas between ship frame beams which are completely horizontal. No tilt allowed. In the ship editor the corresponding sections are filled with a purple colour.